Don't ignore your injuries. Find a physical therapist at No-Fault Doctors. We treat neck pain, whiplash, sciatica, and more—call (888) 970-5065 today.
Physical therapists treat a wide range of medical conditions. For example, a physical therapist can help you recover from a major surgery or get back on the court after suffering a debilitating injury. Whether you want to restore your mobility and balance or alleviate pain quickly, regular appointments with a physical therapist may help you.
Finding reliable physical therapy in New York City after a recent injury or accident shouldn't be challenging. Fortunately, you can schedule with No-Fault Doctors.com by calling (888) 970-5065. Therapists accept most insurance plans, and same-day appointments may be available, so don't forget to call today. 
Physical Therapy in NYC
Are you dealing with pain after a recent car accident or a workplace injury? Physical therapists can help you restore your quality of life using medically proven techniques. Our clinicians treat mild and severe pain with a continuous regimen of guided exercise, soft tissue mobilization, and preventive care.
Physical therapy is a practical alternative to invasive surgeries and medication. Physical therapists in our directory will personalize treatment plans to suit your medical history. And track your progress and adjust their strategy according to your needs.
Recent studies published in the National Library of Medicine suggest that over 95% of patients who undergo routine physical rehabilitation for lower back pain notice significant health improvements within a year. Patients who commit to long-term physical therapy in New York may find relief for these conditions and others, including:
Balance problems

Ligamentous injuries

Persistent neck pain and headaches

Neurological disorders

Sports-related injuries

Cardiopulmonary diseases
When to Seek Physical Therapy After a Car Accident
Half of Americans over 18 develop a musculoskeletal condition that persists for over three months. These conditions can lead to permanent or life-altering conditions that are challenging to manage without a doctor. Although most people in the United States have access to physical therapy, many aren't sure when to schedule a visit.
Knowing when to seek auto accident injury physical therapy services is essential for planning your recovery. If you aren't referred to this treatment by your primary care physician, you can still schedule an appointment. 
You can schedule an appointment with a physical therapist at No-Fault Doctors at any time by calling toll-free (888) 970-5065.
After an Injury
Most people only see a physical therapist once they experience an injury. However, not all injuries are the same. For example, some physical therapists specialize in traumatic injuries after accidents, while others work primarily with sports injuries.
Clinicians in our directory take the time to understand your symptoms so we can match you with the right solutions.
Suppose you're managing pain from a slip-and-fall accident at work. An experienced therapist can determine an appropriate treatment plan. You may require physical therapy for a few weeks or several months, depending on the severity of your condition.
After a Surgery
Physical therapy in New York can help streamline your recovery after a recent surgery. Many medical practitioners recommend this solution to fortify muscles and soft tissue as they heal. 
Therapists in our free directory understand that you may experience significant pain after a procedure. They will target and eliminate discomfort using a practical, hands-on approach. You can trust these professionals to treat your symptoms steadily so you don't experience unnecessary complications during recovery.
Routine Treatments
Patients of all backgrounds seek routine physical therapy in NYC to maintain their health as they age. Younger patients often use these services to achieve better athletic performance. Older adults use physical therapy to offset conditions that reduce the integrity of their muscles and bones.
In either case, you have the freedom to choose your appointments. You can schedule multiple treatments a month or visit the office several times a year. A clinician can help you determine the right program for your needs.
Preventive Care
Physical therapists provide preventive care to help patients avoid future injuries with exercises that reinforce joint and tendon strength. Additionally, they can provide dietary planning and lifestyle recommendations to help you maintain good health.
Why Choose Our Practitioners?
Over 1,500 physical therapists work in the state of New York. PTs in our free directory can help you get back to doing the things you love. Our therapists prioritize your comfort and happiness during every visit, so you can relax while undergoing treatment. We also provide clean and modern facilities with all the resources you will need throughout your recovery.
Enjoy transparent communication and professionalism during every interaction with the staff. Our providers pay close attention to detail during your treatment, so you are safe 100% of the time. Their team stays by your side until we can determine a solution that works for you. We promote proactive healthcare with dedication and passion.
Are you worried about budgeting your therapy? Our doctors accept most insurance plans, including workers' compensation, no-fault, and PIP (personal injury protection). Additionally, same-day treatments may be available when you call. 
Schedule Physical Therapy Appointment Today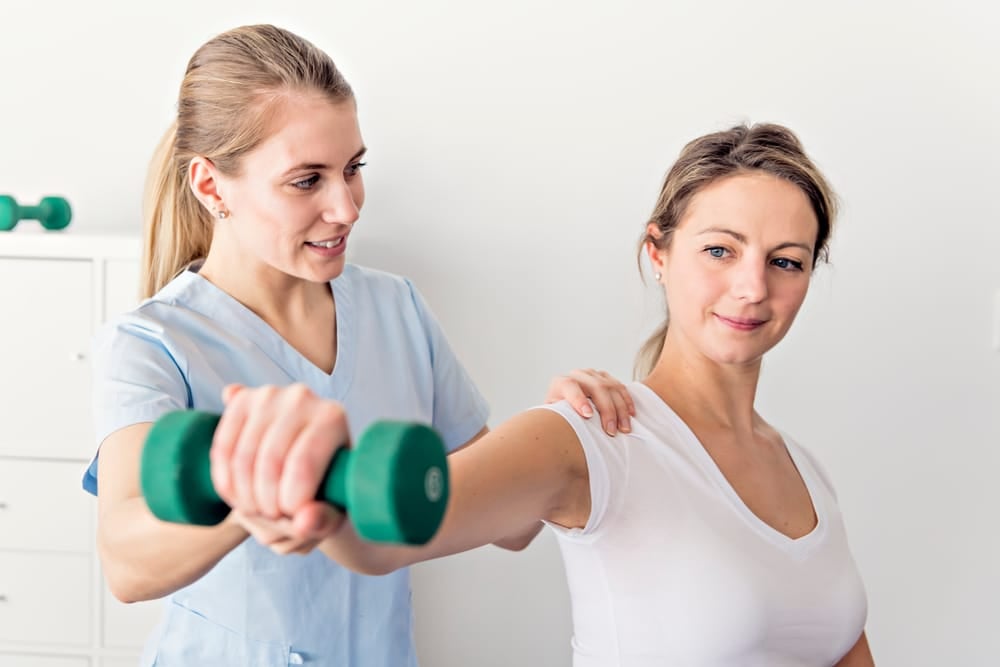 Don't let chronic pain keep you from enjoying life. Walk down the path of recovery with reliable physical therapy in New York.
At No-Fault Doctors, physiotherapists in our directory help patients recover from their conditions and live pain-free. We want you to continue doing what you love without pain, discomfort, or mobility issues limiting you. You can easily book your first appointment today with our online scheduling options or by speaking to us over the phone.
PTs in our directory specialize in treating car accident and work-related injuries so you can recover and return to enjoying life sooner. These professionals help you understand your condition and what to expect during therapy, giving you everything you need for a positive recovery process.
Managing pain after a vehicle collision can be challenging without the proper guidance. Continue exploring how physical therapy after car accident injuries can enhance your recovery experience.
Physical therapists accept no-fault insurance, PIP (personal injury protection), medical liens, LOPs (letters of protection), workers' compensation and other health plans.
Schedule physical therapy after a motor vehicle accident or work-related injury at toll-free (888) 970-5065. Same-day appointments may be available.