At No-Fault Doctors, we make it easy to find a healthcare provider you can trust. Call us at (888) 970-5065.
Thousands of car accidents occur on the East Coast every year. In some cases, these collisions result in painful knee injuries. If you experience a similar accident, you may ask yourself, "Is knee surgery necessary?"
Our team at No-Fault Doctors explains knee injuries and what to expect during surgery. Once you finish reading, connect with top auto injury doctors in New York to explore your treatment options.
Common Causes of Knee Injuries
You can sustain a knee injury at any time. Athletes often experience knee pain after twisting their joints or overexerting themselves. Additionally, those managing osteoarthritis or other degenerative muscle diseases may experience knee problems over time.
Still, high-impact accidents remain one of the common causes of knee injuries in adults. Car collisions can create significant problems for the legs and joints, even at low speeds. If you experience a knee injury after a crash, you may notice the following:
Mild to severe pain

Problems walking

Tingling sensations in the leg

Swelling and bruising

Numbness

Muscle weakness
You may wonder, "Is knee surgery necessary if I only experience one of these symptoms?" It will depend on the type of injury you sustain and the severity of the damage.
Types of Car Accident Knee Injuries
Not all knee injuries are the same. In fact, you could sustain more than one type of injury to your knee during a car accident.
Lacerations and abrasions include scrapes, cuts, and traumatic wounds that occur when sharp objects strike the legs. Broken glass and loose objects in the car contribute to these injuries the most. Long clothing may prevent things from scraping your knees, but metal and plastic can still cut through the fabric at high speeds.
If you strike your knee on a hard surface during the collision, you may experience two types of injuries. The first consists of a contusion, which damages the soft tissue around your knee. The second involves a broken kneecap.
It can be tough to prevent these injuries during a car crash. Still, ensuring your legs have enough distance between objects may reduce the risk of breaking a kneecap during a collision.
Lastly, car crashes often cause ligamentous injuries on one or both sides of the knee. Any impact can cause a ligament tear, though they usually occur after a sudden twisting motion. 
What Happens if You Don't See a Doctor?
It may be tempting to see if your injury heals without medical treatment. Still, most doctors recommend seeking a diagnosis immediately after an accident.
Several complications may occur if you choose not to see a doctor. Firstly, you risk aggravating your condition.
Suppose you wait several weeks without seeking medical treatment. During that time, your physical activity could cause irreversible damage to your muscles and tendons. Even if you finally decide to seek treatment, you may struggle with mobility problems throughout life.
Secondly, the affected knee may impact other areas of your leg. If your injury includes nerve damage or an infection, you compromise your overall health by ignoring medical aid.
Without a diagnosis, you will not have access to conventional options that help you manage knee pain. A doctor can prescribe painkillers and other medications to prevent unnecessary suffering. 
What To Expect During a Diagnosis
Getting a diagnosis is the best way to answer the question, "Is knee surgery necessary for my condition?" A doctor can examine your knee using state-of-the-art digital imaging systems. X-rays, CT scans, and MRIs are just a few modern tools that help clinicians identify fractures and ligament tears.
Your doctor may apply gentle pressure on your knees to determine the severity of your pain. During this time, you can discuss other complications you experience, like trouble sleeping or climbing stairs.
They will determine an appropriate diagnosis using all the information they collect during your examination. For minor injuries, rest and light physical therapy may be applicable. However, your doctor may recommend knee replacement surgery if they see severe damage.
Don't hesitate to ask your physician any questions about your treatment. They will provide a detailed explanation of what to expect and how to prepare.
What To Expect During Knee Surgery
Knee surgery may sound intimidating, but recent developments make the process safer than ever before. 3D-printed knee implants and robotic technology enable surgeons to prepare and treat the affected area with precision. Additionally, improvements in medical procedures, such as neuromuscular electrical stimulation, make it easier to manipulate and control a patient's muscles during an operation.
A doctor will likely use a regional anesthetic on the affected knee before starting surgery. However, a local anesthetic may be appropriate for more conservative treatments, like arthroscopic surgery.
Knee replacement surgery starts with the preparation of the bone. During this stage, surgeons remove the damaged ends of the femur and position metal implants to substitute the joint's surface. Surgeons then resurface the kneecap and insert an implant spacer between the metal supports.
This surgery effectively restores the patient's range of motion and prevents further damage to the surrounding area. Recovery generally takes between six months to a year for most patients. Your doctor will recommend staying off your feet as much as possible and may refer you to a physical therapist while you heal.
Learn Your Options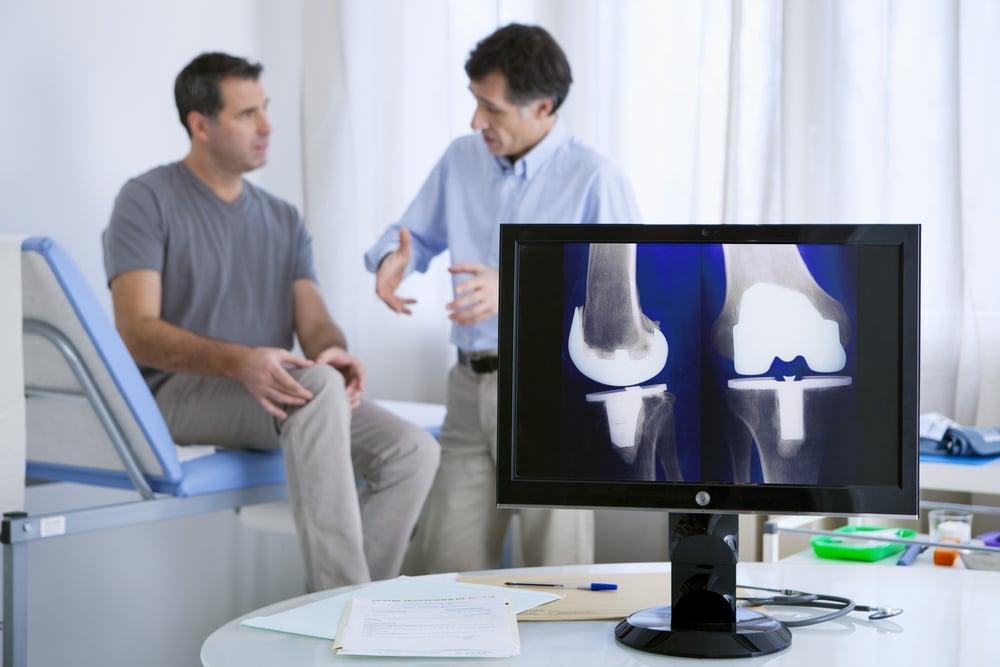 Without speaking to a doctor, you won't know if knee surgery is right for you. At No-Fault Doctors, we help you find a licensed physician in New York, New Jersey, and Connecticut. Our team takes the time to find reputable clinics that accept no-fault and PIP insurance options.
Would you like to find a trustworthy orthopedic doctor? Our team will point you in the right direction and offer additional educational resources to explore. Learn more about how you can deal with knee pain after a car accident by viewing our latest articles.
Is knee surgery necessary for your condition? Call No-Fault Doctors at (888) 970-5065 to find out more. Doctors in our directory accept no-fault insurance, PIP (Personal Injury Protection), workers' compensation, and most health insurance plans. Same-day appointments may be available.